🌼 Spring Special Offer - 90% OFF
The Ultimate UI/UX
Design Course
Learn how to design and use all the UI/UX design components for your
Web Pages & Mobile Apps. The course comes with fully coded examples
so that you can take our best practices to the next level!
Our background
2,040,000+
Products users
3,000,000+
Products downloaded
COURSE PREVIEW
Do you want to improve your UI/UX skills?
The Ultimate UI/UX
Design Course is created by our talented product developers and Chief Designer. It comes as a result of 8 years of crafting the next generation's web design tools, UI Kits, Admin Dashboards, and Mobile App Templates.
Here's what you'll learn
See what you will learn on each part of our course!
Part I - A Brief History of Designing Elements
The first part of the course will help you better understand which events have substantially impacted the history of design, the evolution, and the trends over time until today.

This part includes 3 videos with a total length of 12 minutes.
Part II - What is UI/UX Design
In this part, you will better understand the UI Design and UX Design concepts, how they work with each other, and the differences between them. If you ever thought to become a UI or UX designer, this part will help you decide!

This part includes 4 videos with a total length of 6 minutes.
Part III - How to create Design Elements
The third part will teach you how to create elements such as buttons, inputs, shadows, color palettes, gradients, and more. You will also learn how to use icons or illustrations correctly. All the examples come with coded versions.

This part includes 19 videos with a total length of 84 minutes.
Part IV - How to Use & Combine Design Elements
All elements can create sections such as navbars, headers, features, cards, teams, tables, footers, and more. You will learn how to mix components, what to avoid, and how to apply the best practices from the industry to create coded sections.

This part contains 28 videos with a total length of 93 minutes.
Part V - Create Real-Life Applications
In this part, you will learn how to combine sections to create different presentation pages, for example: About Us, Profile Page, Blog Post or E-commerce. For the management part, you will have examples such as Login and Registration Pages, Admin and Dashboards, Stats, and Charts.

This part cointains 13 videos with a total length of 15 minutes.
Part VI - Website Inspiration from the Industry Leaders
The last part contains details about the evolution of some websites that respect the design rules and adapt their elements according to the trends. These examples also meet a user-friendly experience.

This part contains 6 videos with a total length of 5 minutes.
A certification offers a physical confirmation of your new/improved skills. We believe that with a certification in hand, you can surely get an edge over other job candidates.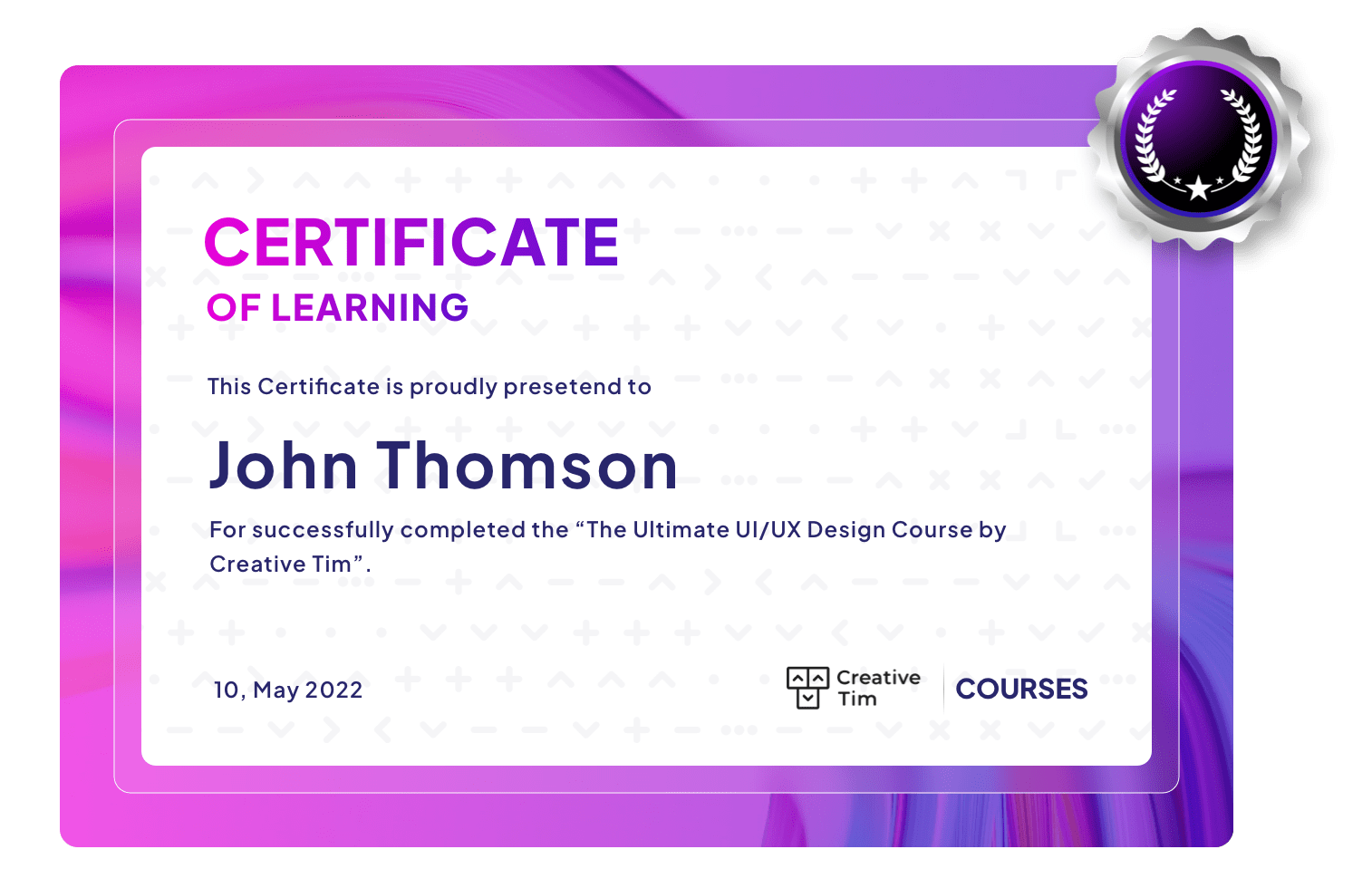 Competitive Advantage

A certificate is the proof of your learning experience. It will help you prepare for what's next while giving you the competitive advantage you've been looking to find.

Creative Tim Recognition

With 8+ years in the web industry we are a popular company among web designers and developers. We power businesses and individuals to create better-looking web projects worldwide.
Join our newsletter
Get news in your inbox every week! We hate spam too, so no worries about this.
Frequently Asked Questions
Should I take this course if I am a web designer?
Definitely, the course is created for web designers who want to develop their UI/UX design skills by learning the fundamentals of it.
Should I take this course if I am a web developer?
Sure, the course is created for web developers who want to develop their skills and develop an eye for design, not just for code. Also, the course comes with fully coded examples that will help you improve your web dev projects.
Created with